January 2017: a new edition of my World Map of Social Networks, showing the most popular social networking sites by country, according to Alexa & SimilarWeb traffic data (caveat: it's hard to understand the impact of Google+ because it is part of Google domain traffic).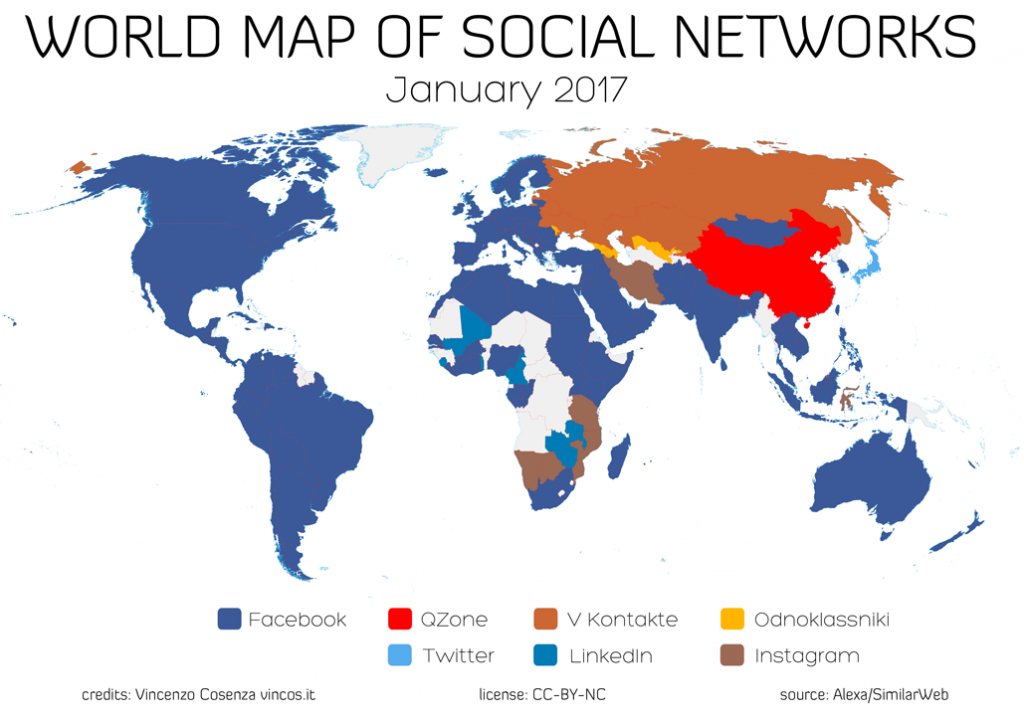 There are a lot of news since last January: Facebook is still the leading social network in 119 out of 149 countries analyzed, but it was stopped in 9 territories by Odnoklassniki, Vkontakte and Linkedin.
It's interesting to see that in some countries, like Botwana, Mozambique, Namibia, Iran e Indonesia, Instagram wins and that some African territories prefer LinkedIn.
Overall LinkedIn conquers 9 countries, Instagram 7, meanwhile VKontakte and Odnoklassniki (part of the same group Mail.ru) grow up in Russian territories.
In China QZone still dominates the Asian landscape with 632 million users and Japan is the only country where Twitter is the leader.
But what's going on behind the first place? Which are the Facebook runner-ups? What would the world be like without Facebook?
Here's the map showing the second ranked social networks in 57 nations analyzed with SimilarWeb and Alexa.
Instagram is the second social network in 37 countries. Since January it has lost Australia, Canada, Denmark, New Zealand, United States.
Twitter is struggling for the leadership in 8 nations, especially in Europe, Odnoklassniki is 2nd in Russia, Israel, Germany, Ukraine, VKontakte in Czech Republic, Linkedin in India.
The outsider of this wave is Reddit that conquered the 2nd place in 5 nations: Australia, Canada, Denmark, New Zealand and Norway.
TEXT: by vincos.it
---
a)  Lulter is someone who wants to get entertained and get the profit.   Lulter is not a person who performs work, escort or erotic service.
b)  Lulter is a new social network  /application/ where people are enjoying themselves in exchange for a reward.